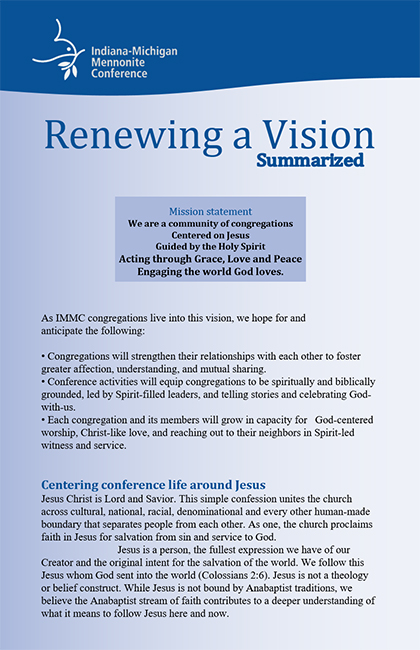 RENEWING A VISION
Renewing a Vision (RaV) outlines the vision of Indiana-Michigan Conference as we live into our shared spiritual practices.  "The vision puts emphasis on the centrality of Jesus in our life; places a high value on our relationships with one another; expresses a commitment to respond to God's love for us by sharing God's Love in the world" (Renewing a Vision, 2018).
Downloads:
Click through the slides to learn more about our history.
With our faith communities knit together, we are able to do what we could not do as single congregations. Committed, caring communities of faith are the bases from which Christ is proclaimed in word and deed. Indiana-Michigan Mennonite Conference under-girds and connects congregations with one another as we center our spiritual development in Jesus Christ.
Bylaws Indiana-Michigan Mennonite Conference.
On any Sunday you will find Mennonites gathered for worship in about 60 countries around the world. With over one million members, the Mennonite church has been in existence for more than 475 years, expressing their faith in various ways and including a wide variety of people: from a Midwest farmer, to a European architect; from the African chieftain, to the South American sociologist. Although they speak dozens of languages, the thousands of different Mennonite congregations count themselves as one family of faith–one of many faith families in the Christian church.
The Mennonite (Anabaptist) faith movement began in Europe in the 16th Century when a small group of believers challenged the reforms of Martin Luther and others during the Protestant Reformation, saying they were not radical enough and calling for adult rather than infant baptism. In 1525, several members set themselves apart from the official church by publicly declaring their faith in Jesus Christ and re-baptizing each other.