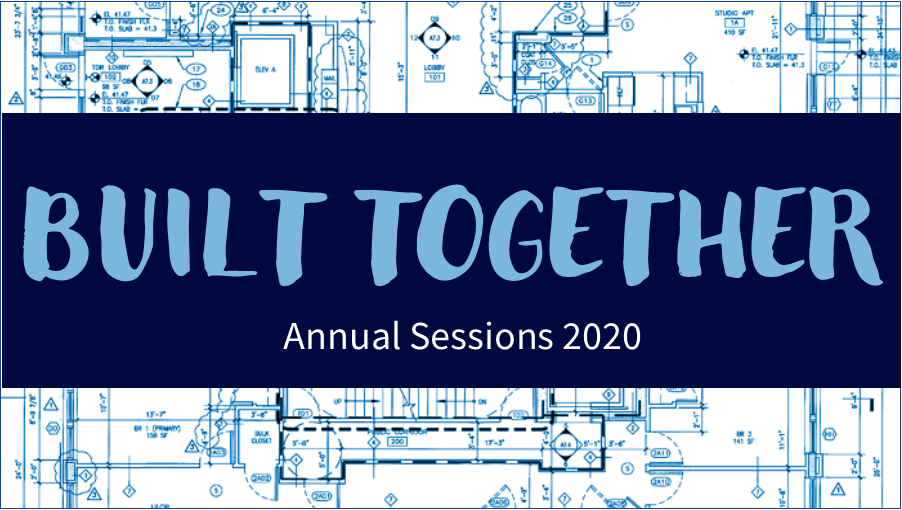 "So then you are no longer strangers and aliens, but you are citizens with the saints and also members of the household of God, built upon the foundation of the apostles and prophets, with Christ Jesus himself as the cornerstone."
(Eph. 2:19-21 NRSV)
God is in the building business, and our Conference is up for a remodel!
The Goshen Regional Council is excited to welcome you to Annual Sessions 2020 this summer, June 19-20.  Guest speaker Safwat Marzouk (author of recently published Intercultural Church: a biblical vision for an age of migration), along with our theme verses (Ephesians 2:1-11), will challenge us to consider how God is "building together" the varied people and congregations of a newly emerging Indiana-Michigan Mennonite Conference.
We'll meet for work and worship over Zoom. Our work together will include discerning a possible partner relationship with the Shirati diocese of Tanzania, and how we want to define our connections as congregations. In addition there will be opportunity for break-out seminars and story-telling from our congregations. We hope you will join us!
The cost of registration is $20. The funds gathered will go towards speaker honorariums and the surplus will be donated to the MDS, Everence and MCC COVID-19 Congregational Relief Fund.. The funds gathered will go towards speaker honorariums and the surplus will be donated to the MDS, Everence and MCC COVID-19 Congregational Relief Fund.
Seminars: 
Cory Martin, Elkhart County Jail Ministry
 The Holy Spirit is at work in Elkhart County calling churches to care for persons who are incarcerated or formerly incarcerated. Cory Martin has been central to this work, reminding us of the human dignity of each person, made in God's image, and of our opportunity to serve Christ in this way. Prepare to be encouraged and inspired!
Register for the seminar here: Prison Ministry with Cory Martin
Nekeisha Alayna Alexis, "Intercultural Competency"
Nekeisha works with churches, conferences and other groups at building intercultural awareness and competency. As Goshen becomes increasingly diverse our Goshen IMMC congregations feel a particular call to engage is this work, breaking down walls. As you think about what you can do, as we think about what we can do, Alexis offers some direction for these challenging times.
Register for the seminar here: Intercultural Competency Training with Nekeisha Alayna Alexis
Aileac Deegan, Dealing with Grief 
Ministering to individuals and families who are grieving the death of a love one can be difficult in the best of times.  In this pandemic working with the bereaved can be even more difficult.  Using best practices, we will explore how to meet the needs of those who are grieving in what is often the toughest time in their live.
Aileac Deegan, MSW, LSW received her graduate degree from the School of Social Work at Indiana University South Bend, and her BSW from Goshen College.  Since 2005 Aileac has served as President/CEO of Ryan's Place, a grief support center for children and their families in Goshen, Indiana. For the past eight years Aileac has taught a class on Grief and Bereavement Ministry to M.Div students at Notre Dame University, South Bend Indiana.
Register for this seminar here: Grief Seminar with Aileac Deegan
2020 Annual Sessions Report Book
A new version of the report book will be uploaded each week.
2020 Reports from MCUSA Related Agencies